What do you do at Cydcor?
I work in the Finance Department as a Manager, Billing and Payment. I lead the analysts in the department and I coach and mentor them to get to their next opportunity. In Finance, we manage our client accounts and assist in growing those campaigns. We do this by assuring the sales data is accurate, reporting summaries and trends, reviewing monthly actuals, and providing projections and forecasts. We partner with campaign managers, directors and the executive team to find ways to make each client campaign as successful as possible.
What makes Cydcor Special?
Cydcor is special because it's a company that truly cares about its team members. People here are not just colleagues, but family. Cydcor is focused on each and everyone's development; if a person is hungry for opportunity, Cydcor will be there to feed them! You can also see how Cydcor cares about its team members by taking a walk through the office space. The company has provided an onsite gym with a full locker room, as well as snacks and coffee free of charge, and laptops so anyone can work from anywhere in the office, including the atrium.
Yesi visits with a child, who is accompanied by her brother, as she waits to receive life-changing cleft-palate surgery in Guadalajara, Mexico. Cydcor employees who are top fundraisers for Operation Smile, earn the opportunity to join one of the organization's medical missions to developing countries around the globe.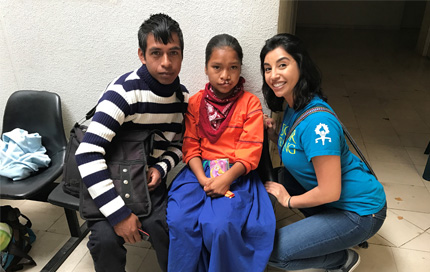 How has working at Cydcor helped you grow?
I have done nothing but grow since working at Cydcor! This company is always pushing you to try new things, think outside the box, and test the limits. All of this results in growth. Since coming here, I have constantly been pushed outside my comfort zone, and I am so grateful for it. I have been pushed to master my own skills through the process of teaching them to others. This has not only allowed me to grow, but has given me the opportunity to help someone else grow as well. It's all about that giving cycle. At Cydcor, I have learned how to build relationships, how to trust my gut and be assertive, and how to effectively lead my team. All these new skills have transferred to my personal life, and I have grown more comfortable and confident in myself.
What is your favorite part of working at Cydcor?
My favorite part of working at Cydcor is definitely the people; my team is my extended family. We spend so much time together during work, and yet, we still make time to hang out outside of work. They are the highlight of my work day. Every person in this company walks around with a smile on their face, and they are always willing to help when asked. I feel fortunate to work with these people.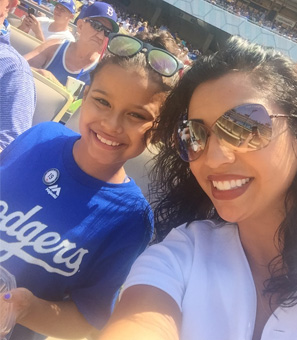 Yesi takes in a Dodgers game with her beautiful daughter.
What do you love about the business?
I love the fact that everyone can achieve their dreams, so long as they put in the hard work and effort. Everyone's future is dependent on how hungry they are, and the only limitation is themselves. If you have a goal in mind, Cydcor will tell you what is needed to achieve that goal, and it is up to you make it happen. No other company that I have worked for has had this mindset, and I love it.