5 Ways Adversity Can Lead to Success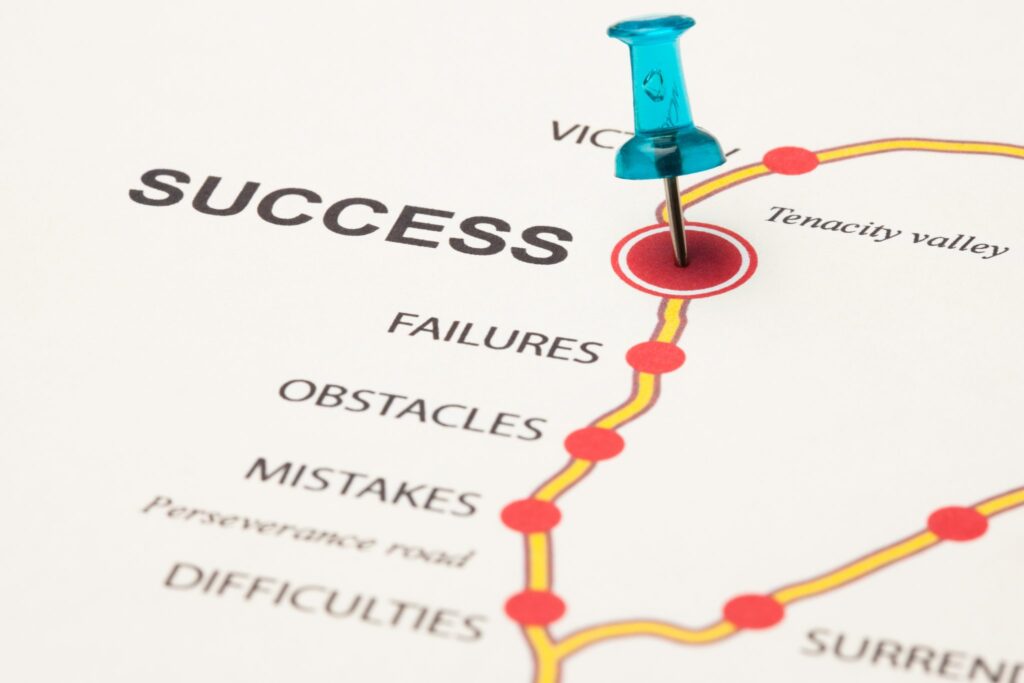 When the road gets bumpy, don't retreat. Remember that every challenge is an opportunity to learn, grow, and improve. While never easy, facing and embracing adversity can lead to success, making us stronger, and better equipped for anything and everything that lies ahead.
'Tis a lesson you should heed,
Try, try again;
If at first you don't succeed,
Try, try again;
Then your courage should appear,
For if you will persevere,
You can conquer, never fear;
Try, Try again.
Remember this poem from childhood? It's a simple yet profound message to keep pursuing your goals, even if at first you fail. It's a reminder to embrace and learn from setbacks because eventually, facing adversity can lead to success. As we all struggle with our fair share of adversity, remember that staring down obstacles can provide powerful lessons on the journey to achievement.
In sales, hearing "no" more than "yes" is par for the course, so this timeless message offers good advice. Hardship, adversity, and even failure can lead to bigger successes if you show courage, persevere, and work hard to reach your dreams — no matter what stands in your way.Hardship, adversity, and even failure can lead to bigger successes if you show courage, persevere, and work hard to reach your dreams — no matter the obstacles.CLICK TO TWEET
Consider these five lessons on how embracing failure leads to success.
Adversity teaches you to be better and better.
In the iconic 1997 Nike commercial, "Failure," Michael Jordan reflects on all the times he missed a crucial shot or lost a game as he walks to the Chicago Bulls locker room:
"I've missed more than 9,000 shots in my career. I've lost almost 300 games. Twenty-six times, I've been trusted to take the game-winning shot and missed. I've failed over and over and over again in my life. And that is why I succeed."
Today, Jordan is considered one of the greatest basketball players of all time. His admitted failures show that even the most successful people in the world have stumbled spectacularly. With the right attitude and perspective, failure can help you learn when you lose and get back up when you fall.
Whether you need to perfect your sales pitch, adjust your approach, or sharpen your skills, let each failure fuel your personal growth. Try these simple steps to take on challenges like a champion:
Dive into the "why" behind the failure; ask tough questions.
Be accountable and take responsibility.
Learn from your mistakes but don't dwell on them.
Preparation and practice make perfect; create a plan that makes it harder to fail next time.
Adversity helps you build grit.
A 2018 survey of 160 business-to-business sales professionals by a leading sales training company finds that nearly half or more have a hard time on the job:
53% give up too easily when cold calling.
48% fear picking up the phone and making cold calls.
59% struggle to get a prospect to respond.
46% struggle to get access to the real decision maker.
So, it's no surprise that success in sales demands true grit. In her 2013 Ted Talk, Angela Duckworth, a psychologist and author of Grit: The Power of Passion and Perseverance, calls this trait a winning mix of ambition, determination, discipline, and persistence:
"Grit is passion and perseverance for very long-term goals. Grit is having stamina. Grit is sticking with your future, day in, day out, not just for the week, not just for the month, but for years, and working really hard to make that future a reality. Grit is living life like it's a marathon, not a sprint."
When things get tough, get tougher and grittier with these empowering strategies:
Be fearless; tackle challenges head on.
Stop self-defeating thoughts and take control of your future.
Commit to your long-term goals and see them through.
Believe in yourself and know that you can succeed.
Adversity teaches you to balance optimism with realism.
This moving story about Admiral James Stockdale brings this lesson home. Stockdale was the highest-ranking U.S. military officer held captive for eight years during the Vietnam War. Despite repeated torture, he rose above his grim situation to lead the POW resistance and survive unbroken:
"You must never confuse faith that you will prevail in the end — which you can never afford to lose — with the discipline to confront the most brutal facts of your current reality, whatever they might be."
Jim Collins, bestselling author of Good to Great and numerous business and leadership books, calls this mindset the "Stockdale Paradox." It describes how successful leaders achieve greatness by balancing optimism and positive thinking with realism and resilience in the face of adversity.
Applying this lesson, you can stay motivated and get out of even the deepest sales rut. Keep the following in mind to conquer a difficult challenge and prevail:
Take stock of the situation and be objective.
Hope for the best and plan for the worst; prepare for every possible outcome.
Be disciplined and strategic in how you respond to rejections and roadblocks.
Be patient and play the long game; don't lose sight of the bigger picture.
Adversity keeps you humble and helps you find the way forward.
After the rocky, widely criticized launch of OWN, Oprah Winfrey recalls her pain and embarrassment over this public failure during the 2013 commencement address at Harvard. Humbled by the worst experience of her career, she shares how failure leads to success by showing you another way forward:
"Failure is just life trying to move us in another direction. … It's really okay to feel bad for a little while. Give yourself time to mourn what you think you may have lost, but then here's the key: Learn from every mistake because every experience, encounter, and particularly your mistakes are there to teach you and force you into being more who you are. And then figure out what is the next right move."
As Oprah's admits, failure hurts, no matter your previous successes. It can shake self-confidence and cause self-doubt. But don't let failure throw you off track. Instead, accept it with humility in these ways:
Be self-aware and view yourself honestly and accurately.
Dig deep and figure out what the experience is trying to teach or show you.
See feedback as a gift; actively listen and respond with gratitude and grace.
Release what you can't control and focus on what really matters.
Adversity forces you to make bold bets.
Jeff Bezos is one of the richest people on the planet thanks to a risk he took when he was 30 years old. Betting on the Internet, he launched Amazon.com with the ambition to build "an everything store." Today, Amazon is the largest Internet company in the world and ranked #5 on the Fortune 500 list.
Since then, Bezos has made even bolder bets, inventing wildly successful products and services that have offset countless failed experiments. According to Bezos, when you play it safe, you leave a lot of opportunity on the table. Taking risks can be scary, but trust in the payoff. He says in a 2014 interview:
"Experiments are, by their very nature, prone to failure. A few big successes compensate for dozens and dozens of things that didn't work. Bold bets … that did work … pay for a lot of experiments. I've made billions of dollars of failures at Amazon.com. Literally billions of dollars of failures. … None of those things are fun. But they also don't matter."
You don't have to be a billionaire like Bezos to make bold bets. Just think and act like an entrepreneur to seize opportunities that can help you reach greater heights of success:
Ask if you would regret not taking the shot when you looked back on your life — even if you failed.
Step out of your comfort zone and expand it to keep growing and moving the needle.
View ideas through the lens of possibility, but don't get attached if they're not working.
Experiment with new approaches; then evaluate, learn, optimize, and repeat.
As these five lessons show, how you respond to setbacks matters — whether you're an elite athlete, a real-life hero, an influential celebrity, a successful entrepreneur, or just an ordinary person who wants to achieve extraordinary things. So, keep trying to be and do better. Have the grit and discipline to go the distance. Balance optimism with a healthy dose of realism to prevail in trying times. Be humble and teachable, but bold in your ambition and approach. By embracing these lessons on how failure leads to success, you can turn obstacles into opportunities, risks into rewards, and losses into wins.
To find out more about Cydcor, check us out on Facebook, LinkedIn, Instagram, and Twitter.
We are Cydcor, the recognized leader in outsourced sales and marketing services located in Agoura Hills, California. From our humble beginnings as an independent sales company to garnering a reputation for consistently exceeding client expectations and driving outstanding revenue growth, Cydcor has been helping Fortune 500 and emerging companies achieve their customer acquisition, retention, and business goals since 1994. Cydcor takes pride in the unique combination of in-person sales, call center, and digital marketing services we offer to provide our clients with proven sales and marketing strategies that get results.