6 Movie Coach Speeches on Accomplishing Goals
Pivotal coaching moments in sports are great metaphors for business and life, because we're all trying to win, make progress, or get to the next level. The best coaches—and the most inspirational speeches—strip away all the distractions and remind us that accomplishing goals is completely possible if we own our greatness.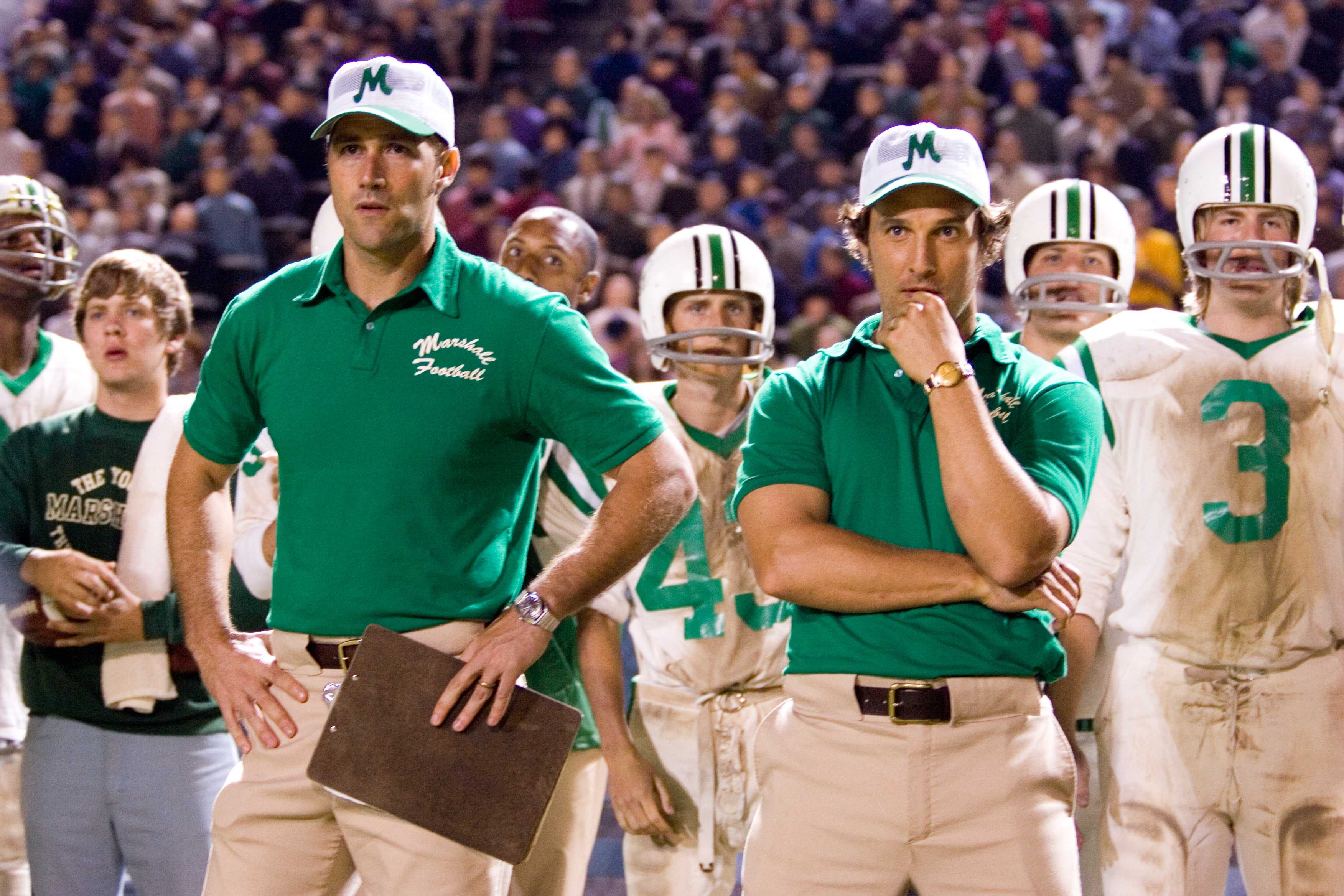 We Are Marshall (2006)
In this small-town sports film, Matthew McConaughey plays Marshall University's new football coach, Jack Lengyel, who arrives in the aftermath of a 1970 plane crash that claimed the lives of 75 Marshall team members and boosters. Lengyel encourages his team, telling them that even though they are vastly outmatched, if they play with all their heart, they can never lose, regardless what the scoreboard says. Marshall goes on to win on the final play of the game. The message is clear: accomplishing goals—even difficult ones—is possible when you believe in yourself and your team.
In We Are Marshall, 2006, the message is clear: accomplishing goals is possible when you believe in yourself.
Click To Tweet
Miracle (2004)
One of the most memorable underdog stories to play out on the international stage, the 1980 U.S. Olympic hockey team's improbable victory over the seemingly invincible Soviet team, was made for Hollywood. Kurt Russell is Coach Herb Brooks, who delivers the stirring "This is your time" pregame inspirational speech that sparked the team's gutsy gold medal run. This is movie offers plenty of inspiration for anyone facing impossible odds.
Coach Carter (2005)
High school basketball coach Ken Carter (Samuel L. Jackson) benched his entire undefeated team in 1999 due to their collective poor academic performance. His role as a tough, principled mentor has its shining moment when, after a defeat, he tells his team in an inspirational speech that he's watched them mature into men who have achieved victory within themselves by excelling as students. Coach Carter is a great reminder that success is a journey, not just an end goal.
Friday Night Lights (2004)
The pressure is on Coach Gary Gaines (Billy Bob Thornton) and the Permian High School football team to make the playoffs in light of the local community's high expectations. In his halftime inspirational speech during the final game of what would be an undefeated season, Coach Gaines sheds new light on the true meaning of perfection: being a person of integrity in your relationships.
Hoosiers (1986)
This Oscar-nominated movie about a small-town Indiana high school basketball team that ends up winning the state championship excels, offering on-the-court lessons about dedication, determination, and redemption. Norman Dale (Gene Hackman) gives an intense pregame speech, imploring his players to forget about winning or losing and instead, play to their potential. If they do that, the results will come. This movie is sure to inspire anyone who believes that hard work, passion, and grit can take you anywhere you want to go.
Remember the Titans (2000)
Newly appointed African-American high school football coach Herman Boone (Denzel Washington) must lead his team's first racially integrated season in 1971. Battling lingering racial prejudice from the community while breaking down barriers between his own players, Boone takes his team out to the site of the Battle of Gettysburg to deliver an inspirational speech about unity. This movie sends a powerful message about the importance of supporting each other in accomplishing goals.
These coaches emphasize the value of having heart, sound principles, integrity, unity, and seizing the moment when it's go time. In sports, and in life, coaching can make all the difference. The next time you find yourself facing adversity, seek inspiration from these examples of great coaching to up your game when it comes to accomplishing goals.
To find out more about Cydcor, check us out on Facebook, LinkedIn, Instagram, and Twitter.
Cydcor provides customer acquisition solutions to Fortune 500 and emerging companies in a wide range of industries.  Through a unique combination of in-person sales, call center, and digital marketing services, Cydcor has mastered the power of building relationships with consumers while leveraging the advantages of technology to acquire, grow, and retain customers for its clients.  Founded in 1994, the privately-held company is based in Agoura Hills, California. For more information about Cydcor, visit www.cydcor.com.