7 Benefits of Volunteering that Build Leadership Skills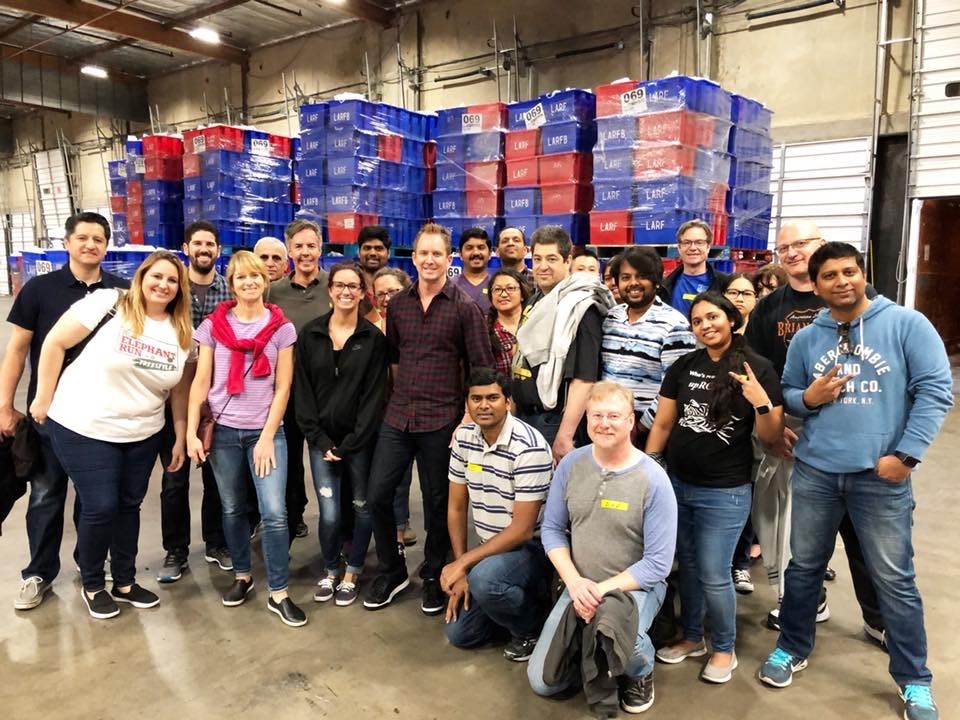 By Dwight Coates, Chief Information Officer | Cydcor
Building a department's strategy, holding meetings, and orchestrating the delivery of technology to our business are not the only ways people can build leadership skills. In fact, one of the most effective ways for team members to learn critical leadership skills is by helping others. There is a myriad of benefits to volunteering. Volunteering takes team members out of their everyday routines and out of the office environment. It shakes up typical work groups, team structure, and processes and it challenges team members to think differently, look to each other for input and guidance, and unite behind a shared purpose. While volunteering, team members aren't focused on getting ahead; they are focused on completing tasks, overcoming obstacles, and accomplishing goals—which is exactly why community service projects are such powerful teaching experiences.
Here are seven benefits of volunteering that can help build team members' leadership skills:
1.Volunteers Connect with the Whys of Life: While serving others or working on behalf of the environment, volunteering can remind team members of their own values and help them reflect on the things that are most important to them. This process helps build more empathetic future leaders, and encourages team members to engage their hearts, not just their minds, in their work. It also helps team members see the bigger picture, to realize that thier work can have an impact far beyond any single project.
2. Enables Networking: Volunteering can have an equalizing effect, mixing high-level executives with employees fresh out of college. These volunteer activities give employees the opportunity to break out of their typical work circles and meet people from whom they may be able to learn valuable leadership skills or who may be able to offer support to help them grow their careers. While volunteering, team members often form lasting friendships and partnerships.
When teams volunteer, they unite behind a shared vision and commit, as a team, to shared goals.
Click To Tweet
3. Teaches the Importance of Having a Vision: When teams volunteer, they unite behind a shared vision and commit, as a team, to shared goals. Because the stakes are often so high, it is easy to create alignment within the team, and team members can see how that level of alignment can pay off in the form of rapid results. When people band together behind ideas and trust in a single vision, it is astounding how much they can accomplish, and this experience can translate back to how a team works together on behalf of company goals as well.
4.Volunteer Work Energizes: When employees are stressed, doing work that benefits others, the community, or the planet releases endorphins and lifts spirits better than any sports game or team wine night. Volunteering reinvigorates overworked employees, reignites their passion for their work, repairs bonds between team members, and makes them more efficient and productive by challenging them to solve new kinds of problems and follow different processes.
5.Trains Great Mentors: As volunteers, team members benefit by offering guidance and support to each other in different ways than they might as part of their everyday role.Volunteer work gives team members a voice who may not always have one, and allows them to step up and show leadership skills and benefits they can offer the team that may not be as easy to recognize while at the office.
6.Exposes Employees to Other Cultures and Other Ways of Working: While volunteering, teams may have to follow new systems or processes than they do as part of their daily work, and this helps to challenge their thinking and adaptability. Team members are sometimes also asked to work with people who come from different countries, cultures, and backgrounds, and this helps team members learn new skills and improve their abilities to bridge communication gaps and relate to others regardless of differences.
7. Fosters Collaboration: Volunteering encourages partnerships between those who may not normally work together. While participating in philanthropy projects with my teams, I often intentionally assign employees to tasks that force them to work alongside team members they're not used to working with to help bridge those communication gaps and force employees to break through barriers to find solutions together.
Volunteering encourages partnerships between those who may not normally work together.
Click To Tweet
Besides the leadership skills volunteering imparts, spending time helping others can change the way team members feel about their work. Employees want to work for organizations that stand for something, and showing a dedication to service may help to improve employees' outlook on the company as a whole, which may support team member retention. An additional benefit of volunteering includes strengthened bonds between team members, helping them to function better as a team and produce better results. Community service and philanthropy, beyond their clear benefit to the community, are invaluable team member development experiences that no department head should overlook as you strive to help your people be their best.
To find out more about Cydcor, check us out on Facebook, LinkedIn, Instagram, and Twitter.
We are Cydcor, the recognized leader in outsourced sales services located in Agoura Hills, CA. From our humble beginnings as an independent sales company to garnering a reputation as the global leader in outsourced sales, Cydcor takes pride in having exceptional sales professionals and providing our clients with proven sales and marketing strategies that get results.
Dwight Coates, Chief Information Officer, Cydcor
Dwight Coates is the technology driver for Cydcor's customer relationship management solutions. With more than two decades of leadership experience, Dwight has had the opportunity to see, first-hand the impact community service activities can have on IT and other professional teams as they work together to achieve outstanding results.