Cydcor Participates in second medical mission for Operation Smile
WESTLAKE VILLAGE, Calif., April 4, 2014 /PRNewswire/ — Cydcor, the leading provider of professional in-person sales teams, raised and contributed funds for Operation Smile, a children's medical charity that provides life-changing surgeries to children internationally born with cleft lip, cleft palate and other facial deformities.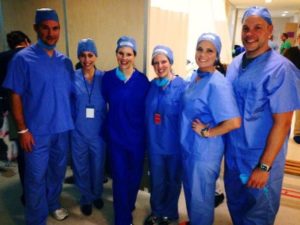 Their donation helped to fund a recent medical mission to San Cristobal, Mexico, which took place in March with five top fundraisers from Cydcor and the company's network of independently-owned offices. This year's mission came on the heels of the 2012 mission to Rio de Janeiro. During the Mexicomedical mission, 99 patients were operated on and 125 procedures were performed.
"Having our friends from Cydcor with us was an exceptional addition to the experience. Each participant showed true passion for all aspects of the events taking place, from helping and playing with the children and engaging with families, to taking a hands-on role in setting up for the medical mission," saidCourtney Kass, Operation Smile development officer. "Their energy, focus, and hard work extended through their fundraising efforts to the final days of the mission. We're proud to continue our partnership and thank Cydcor for all that they do to help children worldwide through Operation Smile!"
In 2013, Cydcor and their network of offices held the first-ever "Day of Smiles," which raised approximately $100,000 for the organization – surpassing their$90,000 goal. It was the single largest fundraising effort that helped to fund the medical mission to Mexico.
"We saw firsthand the positive impact that Operation Smile has on the communities they support. In the short time we were on the mission, we developed bonds with the children and their families and we felt like we made a difference in their lives. It was a truly humbling experience," said Jim Siegrist, mission attendee and senior vice president of business development at Cydcor.
"We're grateful that our organization can play a part in making a big difference," said Cydcor Chief Operating Officer Vera Quinn. "We are close to raising funds to support a third mission and take heartfelt pride in helping these families who otherwise would have no way of obtaining life-changing surgery."
To help support Cydcor's fundraising efforts, visitwww.operationsmile.org/cydcor. For more information on Operation Smile's global efforts, visit www.operationsmile.org, follow @operationsmile on Twitter, and on Facebook at www.facebook.com/cydcor.
Want to learn more? Like Cydcor on Facebook and follow them on LinkedIn.
About Cydcor
Cydcor is the leading provider of outsourced, face-to-face Cydcor sales teams to a diverse client base of companies in a wide range of industries, including telecommunications, office products, entertainment, energy, and financial services. Serving Fortune 500 and emerging market clients in the business-to-business, residential, and retail channels through in-store marketing initiatives, Cydcor works with a network of approximately 325 independently-owned corporate licensee (ICL) Cydcor sales offices, providing clients access to more than 4,100 sales professionals. The privately-held company is based inWestlake Village, California. For more information about Cydcor, go to www.cydcor.com.
About Operation Smile www.operationsmile.org
Operation Smile, headquartered in Virginia Beach, Virginia, is an international children's medical charity with a presence in more than 60 countries, whose network of more than 5,400 medical volunteers from over 80 countries is dedicated to helping improve the health and lives of children. Since its founding in 1982, Operation Smile has provided more than 200,000 free surgeries for children and young adults born with cleft lip, cleft palate and other facial deformities. To build long-term self-sufficiency in resource poor environments, Operation Smile trains doctors and local medical professionals in its partner countries so they are empowered to treat their local communities. Operation Smile also donates medical equipment, supplies and provides year-round medical treatment through its worldwide centers.