What do you do at Cydcor?
I drive quality IT delivery for our business and the independent sales companies with which we work. My team performs software quality checks and certifies Salesforce implementation, campaign rollouts which has a greater impact to the business enabling capability uplift initiatives to align with company vision.
What makes Cydcor Special?
Believing and investing in people. Cydcor helps people unleash their potential to achieve their personal and professional goals and become greater versions of themselves. The company is truly focused on clients, customers and the sales companies with a service mentality that drives the core business values in providing a wide range of opportunities to lead and excel.
Anand helps resolve a software issue with one of his Cydcor colleagues.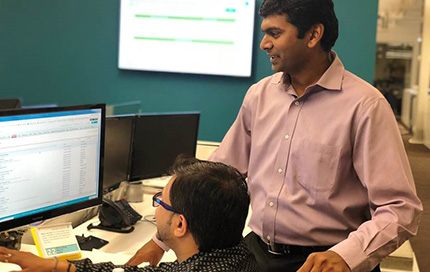 How has working at Cydcor helped you grow?
Working at Cydcor is a journey. Investing in people, process, and product, and wowing our clients, customers and the sales teams are the reasons we do what we do. Those values give us purpose and impact the way we engage in our business. Cydcor has provided me a platform to deliver results, build effective teams, and impact people's lives. I am constantly learning while working at Cydcor. One can learn the foundation and pillars of the business and apply those values in their personal life to see the results first hand. Cydcor has molded me as a person, developed my entrepreneurial mindset and enabled me to grow as a trustable leader.
What is your favorite part of working at Cydcor?
Field visits have had a great impact on me. Spending time with the sales companies has given me an opportunity to learn about people, business, and has provided me with intellectual/emotional satisfaction. I love seeing companies succeed, accomplish their goals, and it is satisfying to see people grow and reach their full potential. I am fortunate to be part of this efficient team in driving quality delivery for the field and business, which has a great impact on people's lives and careers. Cydcor's culture, people, energy, opportunities, and business potential motivates me. It drives me toward excellence and keeps me humble.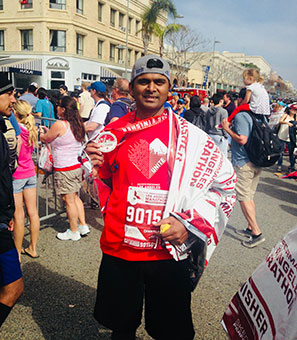 Anand, after finishing the 2016 Los Angeles Marathon.
What do you love about the business?
Believing in the core values and delivering excellence in what, how, and why we do what we do fascinates me. Our business strategy is a simple but powerful model that drives performance and inspires business owners to achieve excellence and demonstrate leadership. Continuous exploration of sales strategy and the zeal to dominate retail, residential, and B2B markets is the tipping point for our business to be the number one player in this industry.