What do you do at Cydcor?
I'm an attorney in Cydcor's Legal Department, and we provide legal guidance to Cydcor on almost any internal matter you can think of, as well as on issues involving the field. On any given day, I might work with the team on a complex client agreement, answer a compliance question, dabble in employment law, delve into the world of IT, or finalize a cloud computing agreement. I also assist other departments on internal policies or handle legal emergencies that arise out in the field. It never gets boring here!
What makes Cydcor Special?
As with any results-oriented company, Cydcor is focused on surpassing company goals, but its dedication to improving the quality of life for all team members makes Cydcor unique. There is always an emphasis on development. For example, Cydcor is constantly providing classes to help employees with their professional milestones or recommending reading material to help people make progress toward their personal goals. Other perks such as the standing desks, the complimentary healthy (and sometimes not-so-healthy) snacks, the onsite gym, and the company-sponsored activities all make this place special.
Karen leads a presentation on legal issues at a Cydcor-sponsored Business Building Blocks event.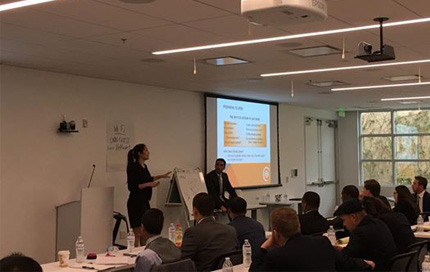 How has working at Cydcor helped you grow?
Working at Cydcor has given me so much hands-on experience with a variety of matters, and, as an attorney, I find that the work here is exciting and rewarding. Because Cydcor has a unique business model, there is always something new that pops up. You'll never get boxed into one niche, as you constantly have to deal with a wide range of matters and more than one area of law every day. On top of that, when there are emergencies, you have to be able to think on your feet!
What is your favorite part of working at Cydcor?
Hands down, my favorite part of working here is the people and their drive. I've made some great friendships here at Cydcor, and I'm happy to be part of the team! It's admirable watching how hard people work to improve Cydcor and the field and the fact that people support each other consistently.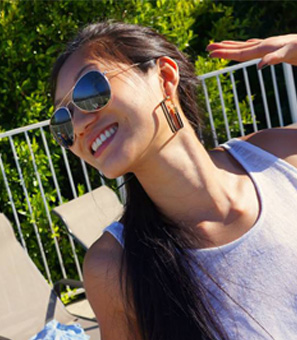 Karen gets glamorous, while soaking up some sun.
What do you love about the business?
I truly appreciate the way Cydcor motivates its internal team members and those working hard out on the field. There's a constant theme throughout the business, which is to support both internal and external members in order to set people from both areas of the business up for success.