What do you do at Cydcor?
In the Sales Quality Department, we investigate potential concerns and customer escalations to ensure great customer experiences are being provided so that Cydcor's brand, along with the brands of our clients and the independent sales companies, are protected. This is vital to our success, especially when it comes to our relationships with our current and future clients. We work closely with sales company owners to make sure the field has a clear understanding of the current business rules in place for the programs they work on to help them represent our clients well so these business owners can reach their goals and achieve growth. This service to the independent sales companies helps keep the Cydcor-sales company relationships strong.
What makes Cydcor Special?
I never imagined I'd have a job where management strives this hard to develop their team members and map out what it takes for them to get to that next level. Cydcor's ability to hire go-getters that are fun to work with is second to none – this makes it very easy to come to work. As awesome as this company building is (and it is awesome), you could put this group of people anywhere and we'd still produce great results and have a fun time doing it. Finally, I love the sales company owners, and am grateful they are such a big part of our business.
Pat and Cydcor team member Aaron Sladek improving their Salesforce game!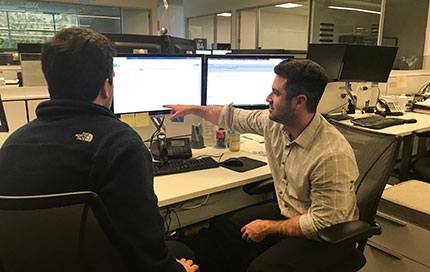 How has working at Cydcor helped you grow?
Through the day-to-day workload along with the development classes Cydcor offers, I've honestly grown more than I could have ever imagined. One area of growth for me has been my ability to problem solve. When hired, I was given the tools and training needed to understand my role, and then I was given the opportunity to use those tools and figure out the best way to assist in resolving certain complex situations that we come across in this business.
What is your favorite part of working at Cydcor?
The relationships. I've been able to create very special and long-lasting friendships with Cydcor team members, our clients, and the independent sales company owners. Building rapport in the workplace is extremely important to me, and these bonds not only make it even easier to walk into this awesome building every day for work, but they also assist me in being more effective in my role. These working relationships allow me to easily communicate with my colleagues in a very collaborative way that assists me to efficiently complete the tasks I'm assigned.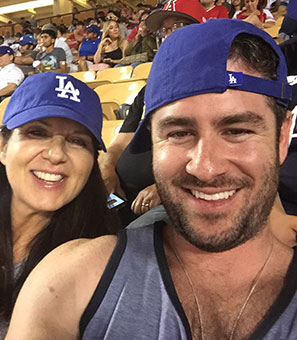 Pat and his mom, Diane, enjoying the Dodgers game thanks to Cydcor CEO, Gary Polson, who gave away tickets to see the game at Dodger Stadium!!
What do you love about the business?
I love the service aspect of this business. It's great to be in a position where I get rewarded for simply helping people. It's always satisfying to help others. I feel like I'm good at it, and this is what I get to do for a living! Getting rewarded for hard work is something else I value about this business. I love having the opportunity to "get out what I put in". If you work hard day-in and day-out here, you will undoubtedly get rewarded, it is simply a matter of time, and knowing this reminds me how lucky I am to get to work for a company like Cydcor.