Cydcor Celebrates 25 Year History of Growth
Since 1994, Cydcor has been delivering outstanding customer acquisition results for clients. The company has come a long way since its founding, earning well-known clients, growing its team, evolving its business strategy and service offerings, and perfecting a vibrant corporate culture that is second to none. And Cydcor is just getting started!
In the Beginning
Cydcor, which started with a small network of just six independently owned sales companies, employing 140 sales representatives, now boasts a sales network of more than 375 independent sales companies that covers 38 states and seven Canadian provinces.
Industry Leader
Winning its first major client in 1995, Cydcor now represents some of the most recognized and fastest growing names in telecommunications, cable, internet, office supplies, energy, and more. Cydcor has been repeatedly recognized as a sales leader by clients, raking in dozens of industry awards for outstanding performance and exceptional customer acquisition, market share, and revenue results year after year.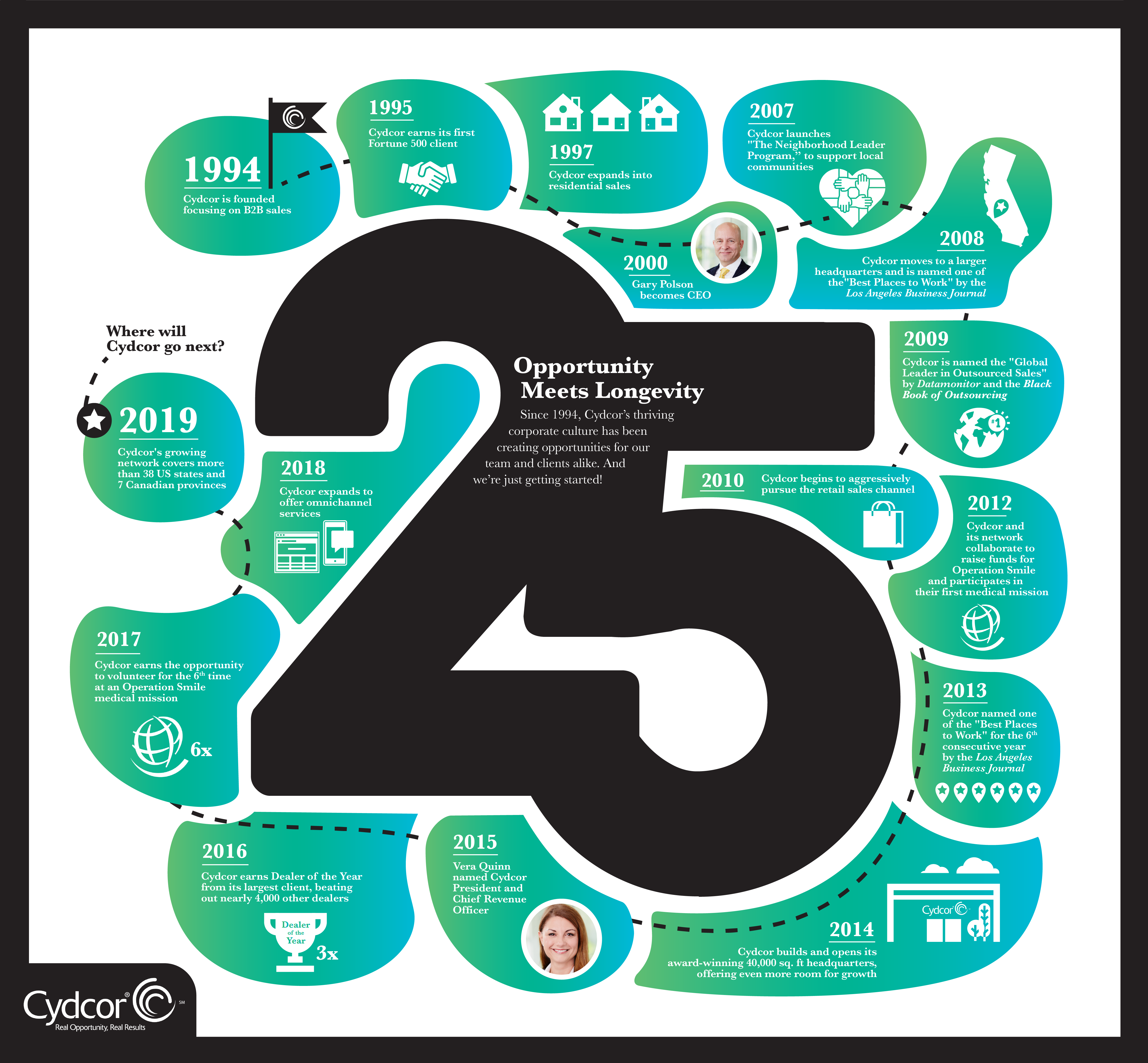 Unique Corporate Culture
Keeping pace with its rapid growth, Cydcor has relocated several times, finally settling into a custom-designed 40,000sq foot, state of the art headquarters in Agoura Hills, CA in 2014. The vibrant work space lives up to Cydcor's rich corporate culture, built around "The Behaviors We Value," and Cydcor's mission to provide opportunities for its team members and clients. From development opportunities and training to social events and health and wellness resources, Cydcor ensures team members have what they need to help them thrive physically, financially, and professionally. This dedication to supporting its team is the reason Cydcor has been named nine times as one of the "Best Places to Work" by the Los Angeles Business Journal.
Helping Others
Cydcor prides itself on being a "people helping people" business, and its commitment to corporate philanthropy has remained a cornerstone of the company's corporate values as well. Together with its network of independently owned sales companies, Cydcor has helped raise nearly $1,000,000 for Operation Smile, which provides free, life-changing surgeries to children around the globe suffering from cleft lip and cleft palate conditions. Cydcor also encourages team members to support their communities by offering one paid volunteer day a year as well as many other company-sponsored philanthropic opportunities.
Cydcor prides itself on being a "people helping people" business, and its commitment to corporate philanthropy has remained a cornerstone of the company's corporate values.
Click To Tweet
Cydcor Today
Cydcor continues to grow at breakneck speeds, consistently outperforming itself, and proving time and time again why it deserves its reputation as a leader in outsourced sales and marketing. In recent years, Cydcor has continued to evolve and boasts a fully tech-enabled team, expanded service offerings, and new customer acquisition channels to build on Cydcor's foundation of in-person sales.
In just 25 years, Cydcor has seen astounding growth and success, and you won't believe what Cydcor does next!
Read more news about Cydcor's milestone year, or check us out on Facebook, LinkedIn, Instagram, and Twitter.
We are Cydcor, the recognized leader in outsourced sales and marketing services located in Agoura Hills, California. From our humble beginnings as an independent sales company to garnering a reputation for consistently exceeding client expectations and driving outstanding revenue growth, Cydcor has been helping Fortune 500 and emerging companies achieve their customer acquisition, retention, and business goals since 1994. Cydcor takes pride in the unique combination of in-person sales, call center, and digital marketing services we offer to provide our clients with proven sales and marketing strategies that get results.