What do you do at Cydcor?
As Director, National Accounts, I manage a major telecommunications client for Cydcor. I have two National Account Managers on my team and, together, we work with over 70 small businesses that represent and sell on behalf of our client. These businesses employ over 1,000 of the sharpest entrepreneurial professionals from around the U.S. My team is tasked with connecting these professionals with an incredible Fortune 10 client, while providing the client access to the best talent available to represent their brand and their products.
What makes Cydcor Special?
Cydcor provides opportunity to so many different people and businesses around the globe. At the very core of what we provide is a face-to-face interaction with customers and businesses. This allows customers and growing companies to have an in-person representative they can consult to better understand what products and services will best suit their needs and budget. In addition, the small businesses that we work with provide opportunity to thousands of individuals looking to become successful entrepreneurs.
Cydcor provides for its team members as well. The company is always striving to create an environment that is, not only one of the best places in LA to work, but a place that is constantly focused on the development of its people.
Steve, accepting an award with his team on behalf of Cydcor and its service to a client.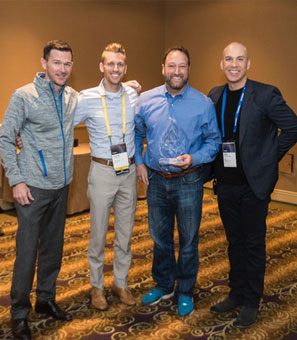 How has working at Cydcor helped you grow?
Cydcor has helped develop me into the working professional that I am today. The company is constantly surrounding me with some of the best managers, coaches, resources, developmental trainings, outside educational classes, and whatever it takes to help set me up as one of the future leaders of this company. I have worked with Cydcor for over 12 years, and I have spent time working as a sales rep, an owner of one of the small businesses with which we work, and as a corporate employee. In today's world, 12 years with a company is almost unheard of, but with commitment, hard work and execution, Cydcor provides an environment where the impossible becomes possible.
What is your favorite part of working at Cydcor?
Cydcor is a place where you truly help foster talent and provide opportunity for generations. We don't manufacture a product; our product is amazing people with amazing work ethic and determination. You can show up every day and know that the people around you are all striving to help someone else become better. They know that when we help others succeed, we succeed as well.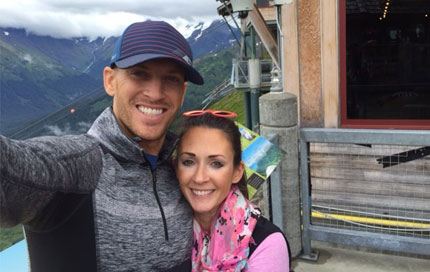 Steve, enjoying the gorgeous Alaskan landscape with his wife.
What do you love about the business?
With all of my time and experience with this company, the number one thing that stands out is the way people here stand by their word. When people here say they are going to come through for their clients, they do, every time. My core value is integrity, and not just when people are looking. The people in this business take that value as seriously as I do, and that is something I love about what I do.