What do you do at Cydcor?
I'm a Director, National Accounts, and I oversee two of our retail campaigns. Simply put, my job at Cydcor is to create a win-win-win relationship between the clients, the independent sales companies, and Cydcor. An important component of the role is owning the relationship with the client, which involves managing overall strategy and ensuring we are meeting our clients' sales targets, internal revenue, and profit goals. An equally critical function of the role is building and maintaining strong relationships with the independent sales companies. It's important that they feel supported and have access to reliable resources as they run their businesses. My job is to make sure that happens. Lastly, as owner of these two critical relationships (client & field), my job is to bridge any gaps between the two parties through goal alignment, process implementation, and gaining the buy-in needed to execute our strategy and get great results.
What makes Cydcor Special?
Cydcor's culture is what makes it special. We are a business that is grounded on integrity and fueled by innovation, fun, and a can-do spirit. It's energizing to be around people who are engaged and unified around one thing: helping people reach their goals. It's inspiring to support the guys in the field and to come through for people in ways that change their lives for the better.
Austin visits with sales reps and customers at a retail location in San Antonio, Texas. Spending time in the field helps Austin provide better support to the independent sales offices and their staff.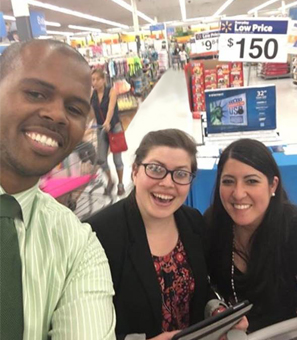 How has working at Cydcor helped you grow?
Working at Cydcor has played a large role in my personal and professional development. On my very first day, my manager gave me a book, The 7 Habits of Highly Effective People by Stephen Covey. This was an early indication that the organization was aligned with my mindset around the value of development. Since then, the focus on learning new skills and ideas has only intensified. My development plan at Cydcor has evolved from hours of book clubs, in-house learning workshops, shadow sessions with team members from other departments, one-on-one coaching with leadership, offsite workshops and courses, and this list goes on. One aspect of my development that's been uniquely valuable is the fact that I've had the opportunity to wear several hats and constantly step out of my comfort zone as I've taken on bigger challenges over the years. Knowing I have a safe environment in which to learn and grow has given me the confidence to keep pushing the envelope and continue to become a better version of myself.
What is your favorite part of working at Cydcor?
My favorite part of working at Cydcor is the opportunity to grow. I'm enamored with our business model and the fact that no matter where you start in our business, if you develop the right skills, maintain the right attitude, work hard and achieve amazing results, there's literally no limit to what you can accomplish.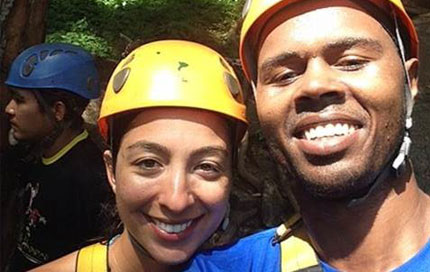 Austin and his girlfriend on a ziplining adventure in Thailand.
What do you love about the business?
In the ten years I've been a part of this organization, I've personally seen people's lives change for the better, my own included. For some people, this was attaining financial security to support their families. For others, it was making friends they would cherish for a lifetime, overcoming personal adversity, or gaining confidence in a skill they never imagined they could develop. In all these ways and more, the opportunity we have at Cydcor is unique and one I'm proud to be a part of. Sales is what we do, but not who we are. We are ultimately an "opportunity" business.